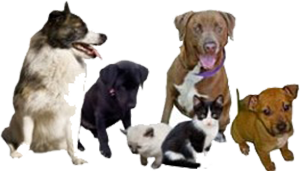 Come and visit… your new best friend is waiting!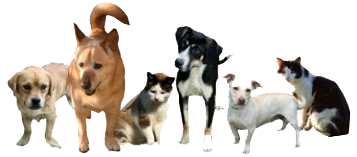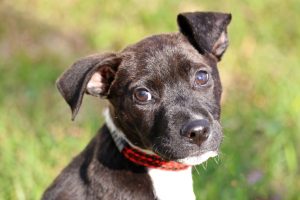 The best is yet to be" – Robert Browning
Life started out all wrong for 8-week-old Darbie. She was left in a box in front of a busy subdivision on a cold December day. Darbie didn't know where her next meal was going to come from or what would happen next.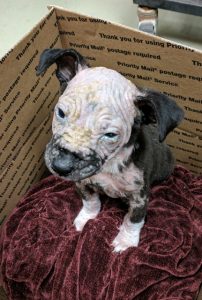 Darbie's adoptable photo
It wasn't long before someone scooped up her box and changed her life forever.  An Animal Control officer brought her into the Humane Society of Camden County .Darbie was so happy to have friendly and loving people and safe place. She had an awful skin infection and a bad case of mange – such a hard thing for a puppy to handle! Despite all the hardship little Darbie had been through already she had a bright and sunny personality. She knew that she was in a place where she would get the love and attention she truly deserved.
Darbie – day of intake
For the next few weeks Darbie received medicated baths and oral medications to clear her skin. She was quickly blossoming into a beautiful puppy.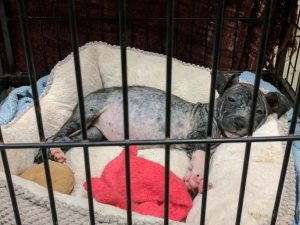 Though all of the staff enjoyed having Darbie with them and Darbie enjoyed all of the time she got to spend with everyone, it became time for her to move on to a new and exciting phase of her life – a home and a family to call her own! It didn't take long, Darbie was only with us for a few short months. She was adopted and went to her fur-ever home on March 3rd. And we are so happy that Darbie did! This little girl deserves all the best this life has to offer.
Warm and cozy in her bed!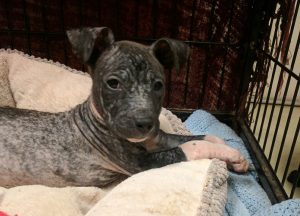 The Humane Society of Camden County could not have done it without you .Darbie's story isn't the first and it surely won't be the last. Your support makes this all possible. All animals deserve a loving family and a home to call their own. Give us a call, stop by, or visit our website for more information on how YOU can help give animals like Darbie a new leash on life.

.
© 2016 Humane Society of Camden County, Inc.
950 South Grove Blvd / PO Box 1270, Kingsland, GA 31548 912-729-7141 hscc@tds.net