Come and visit… your new best friend is waiting!
_____________________________________________________________________________________________________________
Humane Society of Camden County, Inc. (HSCC)
COVID-19 Protocols (8/31/2020)
Covid-19 has been extremely concerning and tiresome, both to the citizens of Camden County and the Humane Society (HSCC). From day one with this virus, the HSCC Board has been proactive and hyper vigilant to ensure the health and safety of our staff. By doing so we have and will continue to limit public access to our shelter and public interaction with our staff, no matter what some other shelters may be doing.
Over the past month we have received some push back and negative posts about our Covid protocols. Please know that the Board is in frequent contact with experts and medical professionals and we do not apologize for our efforts to keep our staff safe and healthy.
As an example of the seriousness of a Covid staff outbreak at an animal shelter, we know of another Georgia humane society that suffered a staff outbreak with 150 animals in house. Apparently they did not have Covid protocols in place and it was a dire situation for the staff and animals. State authorities were called to intervene.
We realize that our Covid protocols are an inconvenience and not business as usual, but it is imperative that the HSCC staff stay healthy so that they can care for the animals in their charge. Until further notice, we will continue reclaims, surrenders, and adoptions by appointment. Please call the shelter at 729-7141 and our staff will be happy to assist and walk you through the requirements. Further, volunteers assisting at the shelter will resume only when we feel it is safe to do so. 
We respectfully request that you bear with us as we try our best to navigate this national health crisis and we ask that you please continue to support the HSCC in our efforts to care for the homeless animals in our community. Thank you and stay safe and healthy.
_____________________________________________________________________________________________________________
Humane Society of Camden County, Inc. (HSCC)
COVID-19 Protocols (3/25/2020)
Effective 3/25/2020 at Noon, the HSCC is implementing the following directives for the health and safety of our customers, associates, staff, and animals:
• The public shall not be permitted inside the HSCC shelter.
• Reclaims: If a citizen is looking for their lost pet, they should call the shelter with a description of their pet and also continually monitor the HSCC Facebook page where we post "Strays in Real Time". If your pet is at the shelter, you should come to the shelter during our normal business hours (see below) where you will be greeted outside by a HSCC staff member. After we receive a description of your pet, if it is at the shelter, your pet will be brought to you via curbside and we will provide you with the necessary paperwork. Note: Like always, you must provide proof of ownership when reclaiming a pet;
• Adoptions and Fostering: If a citizen would like to adopt or foster a pet, we encourage you to continue to monitor our website (see below), which features our adoptable animals, and to also monitor our adoptable pet posts on our Facebook page. If you see a pet that you would like to adopt or foster, you must now contact the shelter to arrange an appointment for a private meet and greet and to fill out the necessary paperwork. HSCC staff and volunteers will stay in regular contact with adopters and fosters via phone, email, or text until the HSCC is back to normal operations. Note: Before leaving the shelter, the adopted and fostered pets will have the requisite rabies vaccine;
• Spay/Neuter Vouchers for Adopted Animals: Citizens adopting a pet will be provided with a voucher for the future spay/neuter of the pet. This is in an effort to reduce the current strain on our local veterinarians during this crisis time and to reduce the time a pet remains at the shelter.
You can still continue to help HSCC:
• Share our Facebook "Strays in Real Time" to help us reunite lost pets;
• Share the pictures of our animals available for adoption from our photo album to help them get one step closer to their forever home;
• Share your adoption success stories to promote adoption; and
• Make a monetary donation to HSCC.
These directives are subject to change as the COVID-19 crisis is a very fluid situation.  We request your cooperation and apologize for any inconvenience.
Humane Society of Camden County
950 South Grove Blvd / PO Box 1270
Kingsland, GA – Zip 31548
(912)729-7141
OPEN
Mon, Tues, Thurs, Fri, and Sat
12PM to 5PM
_____________________________________________________________________________________________________________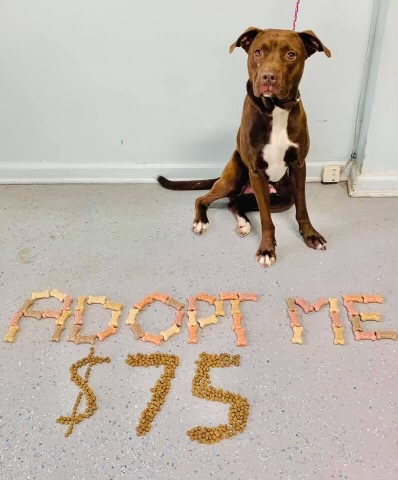 WHO LET THE DOGS OUT?
Thanks to the generosity of a benevolent donor, who wishes to remain anonymous, effective immediately we are instituting the following greatly reduced adoption fees for canine companions:
Dogs – $75 (was $120)
Puppies – $155 (was $200)
Purebred Dogs – $155 (was $200)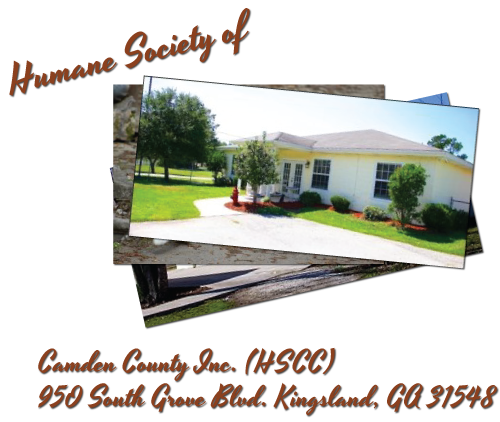 Welcome to
The Humane Society of Camden County
We are a 501(c)3 private non-profit organization and an open door animal shelter. Our facility is a place where the hungry are fed, the homeless sheltered, and the abandoned given care.
Click here for information about reclaiming your lost pet or surrendering your pet.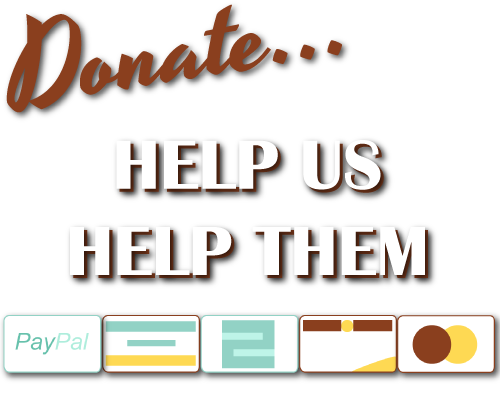 Paw Partners
One hundred percent of your donation to the HSCC goes to the care of our animals and the operation of the shelter. We are a local, private, non-profit corporation. We do not receive funding from the Humane Society of the United States, the American Humane Society, PETA, ASPCA, or any other animal organization. Help us by becoming a "Paw Partner" and gain recognition for your hard work and devotion to our furry friends!
Humane Society of Camden County, Inc. (HSCC)
Bissell's Partners for Pets
The Humane Society of Camden County, Inc is proud to be a Partner for Pets!
Bissell and LostPetUSA.net have teamed up to help organizations like ours raise money, and now you can help too!  When you purchase pet products on Bissell.com and enter code ADOPT at checkout, a portion of your purchase will be donated to your organization.  Its simple: Shop pet productions www.bissell.com and enter the code ADOPT at the checkout, then select our organization. Learn more at www.bissell.com/partnersforpets


Loading…
© 2016 Humane Society of Camden County, Inc.
950 South Grove Blvd / PO Box 1270, Kingsland, GA 31548 912-729-7141 hscc@tds.net