Come and visit… your new best friend is waiting!
Wines, Canines, and Felines
Join us at Osprey Cove Club House on Saturday, November 4, 2017 from 7:00pm-9:00pm.
Donations towards this event, up to $20,000, will be generously matched by The Halsey Family Foundation
.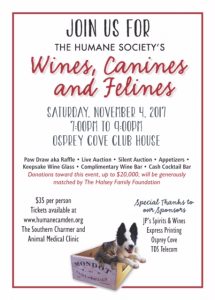 Tickets – $35.00 each Also available for purchase at two area establishments, The Southern Charmer in Kingsland and Animal Medical Clinic in St. Marys.
If you are unable to attend, but would still like to make a donation, please follow the link to our donation page, and give whatever you can! Please write WCF in the special instructions area.
© 2016 Humane Society of Camden County, Inc.
950 South Grove Blvd / PO Box 1270, Kingsland, GA 31548 912-729-7141 hscc@tds.net